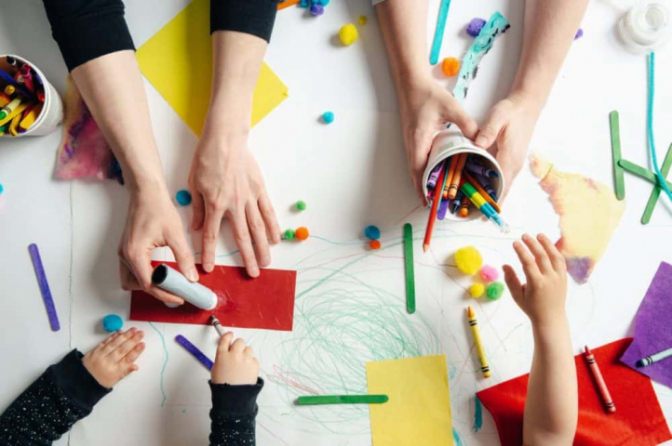 KIDZART
We are very pleased to announce that the Welham Kidzart Foundation (Charity Number 1195210) to be known as KIDZART is now a registered charity and its home is at the Wye Valley Arts Centre (WVAC) in Llandogo on the border between England and Wales.
The object of this charity is to advance education in the arts for the public benefit among primary school children in Gloucestershire, Monmouthshire and neighbouring counties by providing them with access to free creative arts-based activities including visual arts (drawing, painting, sculpture and crafts), drama, dance, music, singing, gardening and cookery where their access to such activities would ordinarily be limited and to develop their skills and interests in the arts.
WHY WE NEED THIS CHARITY
There have been cut backs in schools' practical programmes in the Arts and the opportunities they offer for engaging feelings and creativity.
The joy of learning should be nurtured and requires personal knowledge in small groups where everyone gets to know each other. In teaching for creativity, the children are encouraged to believe in their own creative potential, to understand who they are as an individual and to have the self-confidence to try.
OUR AIMS
All should have the opportunity to learn in a place where people know each other well and treat each other with respect. Groups will be small enough so each child has genuine relationships with adults and other children. A personalised group will encourage individuality with a respectful, diverse, creative, exciting, and reflective approach.
When children find the medium that most suits them, they discover their real creative strengths and come into their own. Helping children to connect with their personal creative capacities is the surest way to release the best in them.
We aim to provide the right environment for stimulating imagination, creativity, and innovation.
For the present we shall start in our small way here in our small corner of the UK, in Llandogo on the border between England and Wales to provide free educational creative days for children from our local primary schools.
HOW WE SHALL DO IT
Our groups will be primary school age children from three local schools with each school sending four children from one age group with one adult. The children will be chosen by the individual school heads as those who will most benefit from the creative days and who would not otherwise have access to any extra-curriculum activities.
Each group will then consist of a maximum of 12 children and 3 adults from three local schools. The four age groups will be 7-year-olds, 8year olds, 9-year-olds and 10-year-olds. There will therefore be opportunities for children to meet others from different schools. Each age group will have 3 days per year with us (one each term) and will with their adult companion continue with their learning in between back at their own schools.
The first year will be a pilot year and the funds for this have been provided so it will not be necessary for the charity to provide funding for the first year of operating. However, we can now set about fund raising for the work to continue in ensuing years. The pilot year will not only establish how much financing per annum the charity needs but will also show the costs, benefits, and risks of the different methods of generating income as well as any legal requirements that the charity must comply with, including fund raising regulations and restrictions on commercial trading.
The WVAC will be able to contribute by donating profits from the property lets and the educational courses run for adults at the Centre. It will also contribute by the use of the building and for paying all overhead expenses.
Initially there could be 12 days per year, preferably Tuesdays, allocated at the WVAC and the dates for these will be agreed with the heads of the schools. As there are 4 age groups and 3 terms it means each of the four age groups will have one day allocated each term.
The following is just to be considered as initial suggestions of how the days with us could be made up.
Fresh fruit and water will be available at all times.
9.00-9.30am Arrival followed by breathing and stretching exercises - perhaps sun salutation movements or similar.
9.30-10.55am Two forty minute sessions for Art with a 5 minute break part way through the double session at the discretion of the teacher.
10.55-11.05am 10 minute break for a drink and healthy snack, a walk outside either in the field or around the building.
11.05-12.30pm Two forty minute sessions for Clay work with a 5 minute break part way through the double session at the discretion of the teacher.
12.30-1.45pm Lunch time including involvement in setting tables, cookery and learning about nutrition and healthy eating. Talking about different foods with perhaps tastings. Eating together and clearing away.
1.45- 3.45 Three forty minute sessions for Drama, Dancing, Singing and Music with breaks at the discretion of the teacher.
3.45-4.00pm A song all together, appraisals and goodbyes.
The 40-minute sessions might include from the following and possibly differ on different visits: this is just a preliminary list and will modify as discussions with staff and the schools progress:
Drawing negative and positive shapes from simple still lifes with charcoal and putty rubber through to line, texture and degrees of tone just from an HB graphite pencil.

Simple three-dimensional modelling with clay eg pinch pots etc.

Experiencing colour using slides to show a variety of artists' work; perhaps different representations of the same object.

Dance and Drama. Learning to trust and support others. Dance training can give the opportunity to think and then make an action. You have to be able to sit still before you make a choice, actually stopping before you begin. Like in an orchestra, it is the silence and stillness before the music which makes it and so it is with dance and life.

Singing: everyone has their own musical instrument in their own voice. Half of the group will have a 40-minute music session whilst the other half has a drama session and then the groups could swap over.

Music and Drama: Half of the group will have a 40-minute music session whilst the other half has a drama session and then the groups could swap over.

Inspiration from the natural environment and experiencing our field opposite; planting trees say one for each group, recording the changes of the seasons, elementary gardening etc and using the natural world as inspiration for art projects.

Food, nutrition and cookery which could result in constructive suggestions for our lunches.
PRACTICAL MATTERS
EQUIPMENT
Every child will be given an apron and fabric/canvas bag to keep their work in and the first session might be given over to decorating the bag so it will be personal to each. There will also be folders to keep in the bag which will take the completed work.
Special furniture suitable for primary school age children: 8 x stacking rectangular classroom tables 1200 x 600 mm and height 640mm in sunshine yellow with black frames, 12 no. matching chairs in yellow. The four accompanying adults will have taller tables and chairs.
We could also have small table easels and boards.
Lightweight drawing paper (80gsm) which comes in rolls 20 m x 508mm, pencils, crayons, chalk, paint and brushes.
A4 and A3 size sugar paper.
Various types of clay.
Projector and screen.
Floor cushions.
Children's gardening tools.
Matching cutlery, unbreakable crockery, water tumblers and napkins.
Soap and towels.
A collection of musical instruments to include the following
One Keyboard, One Percussion set, two or three cajon drums, 15 ukeleles.
STAFFING
The charity will employ teachers for the different sessions so possibly 4 could be needed, 1 facilitator and co-ordinator, plus 1 teaching assistant on each of the days. These could be paid as self-employed contractors. If you are interested in being one of our teachers please get in touch.
Initially, it is envisaged that a part-time manager will be required for the charity and this person will need to coordinate the WVAC with the charity, managing the funding sources, including the adult courses at WVAC and the holiday lets which belong to and help to support the WVAC which donates profits to the Charity Kidzart. If you are interested in applying for this position a detailed job description is available.
Helpers and volunteers will be very welcome.
KIDZART is a Charity Incorporated Organisation (CIO) (Charity Incorporated and the constitution allows for people to join the charity as members. Members may also volunteer to be helpers.
MEMBERSHIP OF KIDZART AND CONTACT DETAILS
If you are interested in being a member of KIDZART or in applying for any of the above then please let us know. Subscription for voting members is £25 per annum. A CIO can also have Associate members who will be kept informed of the Charity's activities and this type of membership is free.
Please also get in touch if you are interested in being on our mailing list to be kept informed of our progress or if you feel you would like to contribute or help in any way.
We have this preliminary website www.kidzart.uk and email address info@kidzart.uk which forwards mail to WVAC. The website will be developed as we progress and help with this and social media would be very welcome. Please let us know if you are interested.
Valerie Welham BA BArch RIBA
Chair of Trustees
| | | |
| --- | --- | --- |
| WELHAM KIDZART FOUNDATION | T: 07796 697226 | |
| Charity Number 1195210 | | |
| | | |
| Registered Address | | |
| Wye Valley Arts Centre | | |
| Llandogo | | |
| NP25 4TW | | |