THE WYE VALLEY ARTS CENTRE,
LLANDOGO, MONMOUTHSHIRE
Tel 01594 530214/01594 530758
email www.info@wyearts.co.uk
THE WYE VALLEY ARTS CENTRE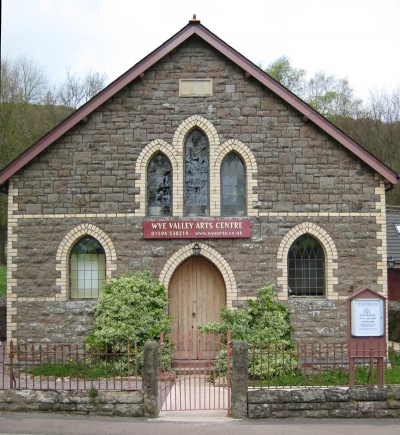 LLANDOGO, MONMOUTHSHIRE
The Wye Valley Arts Centre in the heart of the
picturesque village of Llandogo is an inspiring
environment with excellent studio facilities and
an ideal place for students to enjoy a wide range
of courses which includes Painting, Drawing,
Sculpture, Ceramics and Floristry.
Beginners and improvers are very welcome
on all the courses as all will enjoy the individual
attention which the tutors can give to small
groups of students. There are 1, 2 and 4 day
courses and weekly classes. Please ask for
further details. We hope you will find an
opportunity to come to The Wye Valley Arts Centre
to enjoy our beautiful inspirational surroundings
– the perfect creative environment.
The Wye Valley Arts Centre is Supported by the holiday lets at the Coach House Cottages, Mork, St Briavels so please visit the website www.viewpointholidays.com
We are also very pleased to announce this year the registration of the charity for disadvantaged children, Kidzart. The object of this charity is to advance education in the arts for the public benefit among economically and socially disadvantaged children primary school children in Gloucestershire, Monmouthshire and neighbouring
counties by providing them with access to free creative arts based activities including visual arts (drawing, painting, sculpture and crafts), drama, dance, music, singing and cookery where their access to such activities would ordinarily
be limited and to develop their skills and interests in the arts.
Please let us know if you would like to be on the mailing list for Kidzart or Wye Valley Arts Centre or both.
E PACE ARS EX ARTE PAX
FROM PEACE ART
FROM ART PEACE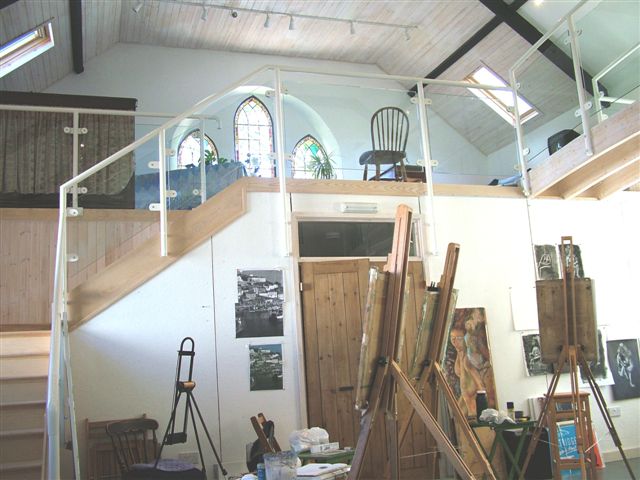 The Wye Valley Arts Centre
is located between Chepstow and Monmouth on
the A466 in the heart of the village of Llandogo in
the beautiful Wye Valley, the border between England
and Wales. It is easily accessible by car being
approximately 45 mins from Bristol and Cardiff,
1.5 hours from Birmingham and 2.5 hours from London.
Guests arriving by public transport
(British Rail or National Express) may arrive in
Chepstow or Lydney from where the Centre
may be reached by bus route 69 or taxi.
Please ask for further details
Wye Valley Arts Centre,
Llandogo
Monmouthshire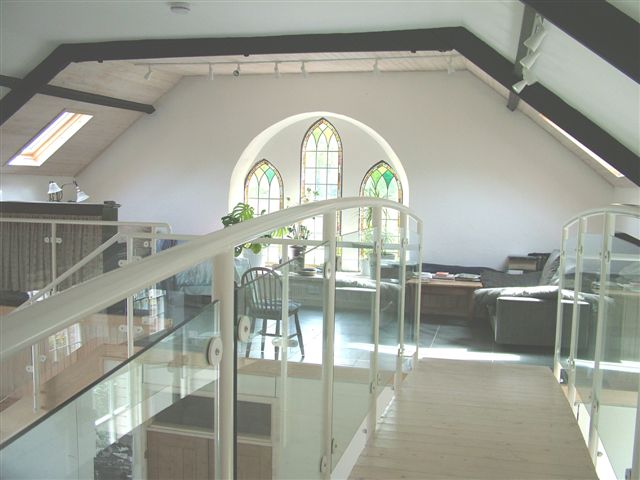 NP25 4TW
Tel: 01594 530214 / 01594 530758
e-mail info@wyearts.co.uk
PROGRAMME OF COURSES 2021
AUTUMN 2021
PAINTING AND DRAWING 1 DAY CLASS Ann Hulme
SATURDAYS 6 NOVEMBER AND 7 DECEMBER
9.30 - 4.00
£55 for all day session
MAKING A CHRISTMAS/WINTER DOOR WREATH Alison Chisnall
SATURDAY 13 NOVEMBER 9.30 - 4.00
£55 for all day session
PLAY WITH CLAY FOR A DAY Val Welham
SATURDAY 9.30 - 4.00 20 NOVEMBER
£55 for one day workshop
DRAWING FROM NATURE Jo Beal
SATURDAY 10,00 - 4.00 27 NOVEMBER
£55 for one day workshop
PAINTING AND DRAWING FRIDAY CLASSES Ann Hulme
FRIDAYS 9.30 – 12.30
5 and 12 NOVEMBER
£28 for each 3 hr session
One day courses include 6 hours tuition, morning coffee and afternoon tea. Lunch is self-catering and students may like to bring a packed lunch. ½ day courses include Coffee and/or tea and biscuits.
Accommodation is available in our own self catering accommodation, The Dovecote Cottage sleeps up to 9 and The Coachman's Cottage sleeps up to 5, for information please go to www.viewpointholidays.com
COURSE DETAILS
If you require further information on any of the courses we shall be very pleased to hear from you so please send an email or give us a call.
ANN HULME
DRAWING AND PAINTING
Art is inspiring; to be able to render form, to give shape to ideas, to bring into existence the illusion of reality through painting and drawing seems like magic.
Some part of it is magic, but the rest can be taught.
The basic approach to it all, to seeing, is applying relative measurement, learning perspective, foreshortening and handling space, and this is what
we shall be applying on these courses. Working with colour follows from basic drawing. Painting on these courses can be in watercolour, acrylics or oil paint .
Remember it is all to enjoy. There are stages as in everything and you can make good progress in a short space of time if you apply the basic formal elements.
VAL WELHAM
CLAY DAYS
Working from various sources; photographs, objects, nature, you will be encouraged to experiment with abstract forms as well as literal interpretations.
Students who have a specific piece of work in mind that they would like to produce will be assisted by the tutor in any techniques that might be needed.
Complete beginners and those with some experience are welcome on the course
ALISON CHISNALL
FLORISTRY
Students should bring with them what they can from thefollowing list but the tutor will have items for sale at cost or florist's scissors to borrow.1.CHRISTMAS/WINTER DOOR WREATHFlorist's scissors, Copper frame, sphagnum moss,cinnamon sticks, dried orange slices, pine cones, berries,holly, ivy, common spruce (60 to 80 sprigs)
JO BEAL
DRAWING FROM NATURE
On this course we shall explore and capture theform, colour, textures and shapes of plants andflowers using a range of pens, pencils and markmaking tools in the fun and experimentalworkshop. With late summer plants and flowers as our inspiration, including some of the local flora from the Wye Valley and the Arts Centre's own orchard, we shall begin the day drawingfrom observation using found mark making tools to capture the main characteristics of our beautiful, natural subjects. Gradually, we will hone in on textures, colours and markings using coloured pencils and chalk pastels. This workshop is suitable for beginners and anyone wanting to
develop their skills. Throughout the day we will explore a number of drawing techniques, for example line
drawing, crosshatching and shading. With top tips on tools and techniques you will gain confidence in your drawing, make new friends and have fun along the way! Materials can be provided at cost by Jo payableon the day or please bring your own and a list can be sent to you at the time of booking.
SOME EXAMPLES OF WORK DURING THE DAY AND THE TOOLS YOU WILL USE.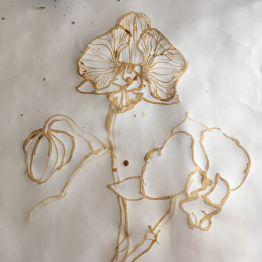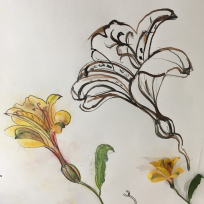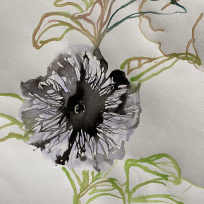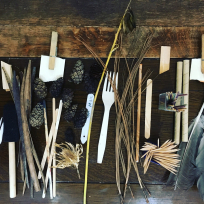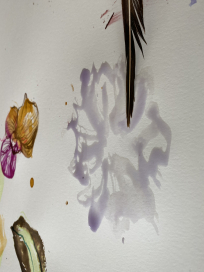 A collection of work from one of our tutors, Ann Hulme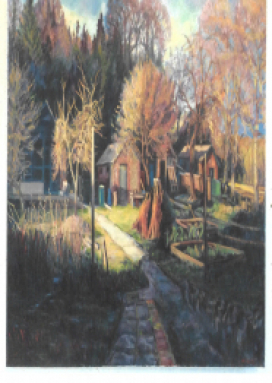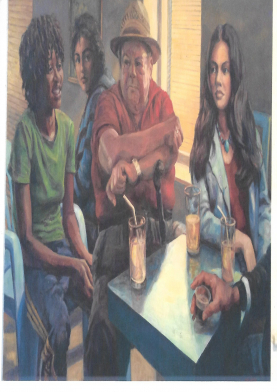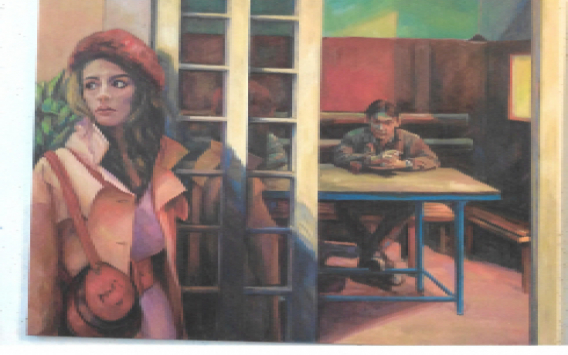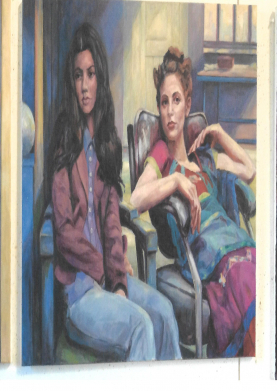 Work done by students